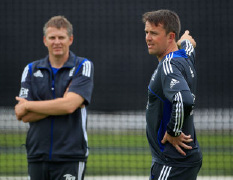 For 10 years Peter Such has been the National Lead Spin Bowling Coach for the ECB. During that time he has worked with and overseen the development of all the spin bowlers on the England Player Pathway.
HECC have now partnered with Peter to provide Specialist Spin Bowling Coaching to aspiring spin bowlers in a group environment. The session will last for up to 3 hours and based around common themes that all quality spin bowlers need to do. Peter will look into basic technical principles, look to explore some tactical options and variations (which all quality spinners need in their armoury), whilst also looking at some competitive practice sessions.
Coaches are also invited with the goal of providing increased knowledge and confidence to work with their spin bowlers by showcasing a collection of exercises designed specifically to improve spin bowlers.
Time: U9-U13: 10:00-13:00 U14+: 14:00-17:00
Cost: Coaches – £35 Players – £45
Please call to book on, LIMITED PLACES!!